Care And Cleaning of Silk Floral and Greenery Arrangements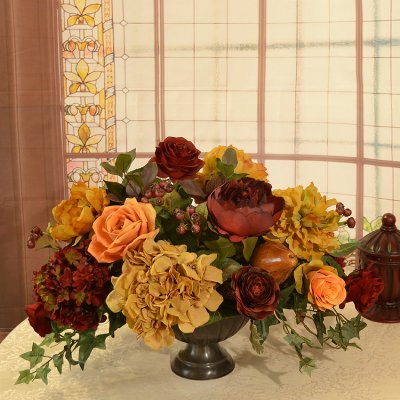 Care of your new silk floral arrangement, greenery, or topiary

Now that you have received your magnificent, professionally-crafted silk floral and foliage centerpiece, grass and greenery arrangement, or topiary from Floral Home Decor, keep these beautiful silk arrangements in top condition so that they will enhance your living space for years to come. Silk floral arrangements and assorted silk greenery are amazingly simple to care for. From the very first day, start your easy care of floral and greenery arrangements by dusting regularly with a feather duster, always dusting against the stem so that the dust does not fall into the silk bouquet or greenery.

Care of silk floral arrangements, greeneries or topiaries with accumulated dust

If you own silk floral arrangements or greenery that has accumulated dust, it is never too late to restore these quality silk stems, swags, wreathes and centerpieces to their original stunning condition. First, inspect each silk floral or greenery stem to determine if it has been hand-painted. If the silk floral or greenery material has not been painted by hand, you may dab each piece with a damp cloth. More dust accumulation may require you to dissemble the floral or greenery arrangement, spray with a mixture containing three parts water and one part vinegar, dab carefully, and lay the stems to dry on a towel before reassembly. If the silk floral or greenery arrangement is painted by hand, you may wish to purchase a can of compressed air. Hold the can in one hand and the silk floral or greenery arrangement in another. Always assure that the air flows against the stem.

Care of the container

Floral Home Decor takes great pride in matching custom-made silk floral arrangements, vine, greenery or grass blends, and topiaries with the perfect container that compliments the overall look of the silk arrangement or centerpiece. Resin bowls, metal pedestal vases and porcelain-type containers, either worked over with textured designs, decorated with color that brings out the unique qualities of the silk floral or greenery arrangement, or simple, monochromatic containers that allow the silk arrangement speak for itself, can easily be cared for. Quickly wiping the containers once a day will prevent dust accumulation; if you choose to clean them once a week, a damp cloth with do. Containers that have accumulated dust over time may need a mild soap that will clean these beautiful floral and greenery containers and not harm their decorations or worked surfaces.

Enjoy your exquisite silk floral arrangement, silk greenery, grass and foliage medley, seasonal wreathe, or silk topiary for decades to come. If you have any questions about the care and cleaning of your silk floral or greenery arrangement, contact us.
- Written by Donna McGiboney