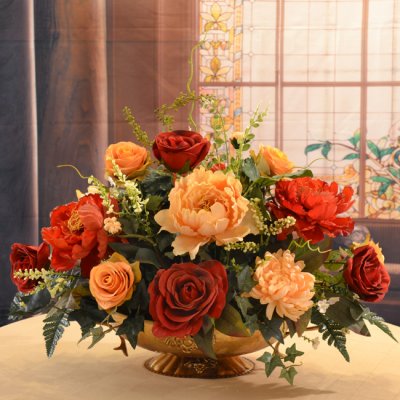 The Perfect Placement of Silk Flowers and Greenery Designs

With so many silk floral and assorted grass and greenery designs to choose from, it is best to think about the optimum area to display your gorgeous silk floral and greenery arrangement.

Dining Room Centerpieces

Low, oblong or rectangular silk flowers fit well on dining room tables. Your guests can marvel at the horizontal display of a low, rounded or domed silk floral centerpiece that spreads luxuriously across your table while your visitors' views remain unobstructed. Vertical silk swags with a harvest theme and adorned in a conical container can be placed horizontally on a dining room table as well.

Accents for Bedrooms, Bathrooms, or Sitting Rooms

Smaller silk floral and greenery designs work well as accents for bedroom nightstands, bathroom counters and living room end tables. From tropical silk flowers with exotic pheasant ferns and artichokes, to simple, silk white calla lilies in an elegant faux water vase, smaller arrangements complement the more limited spaces of your home's interior.

Larger Silk Floral and Foliage Designs

On the other hand, grand floral designs with tall vertical silk flowers such as tuberose, leper lily, gladiola, lamia and snapdragon work well with horizontal groupings of large flowers such as anemone, peonies, geraniums, roses, hydrangea and ranunculus. By combining long-stemmed silk florals with horizontal groupings of large dominant faux flowers, you will want to display your magnificent vertical and horizontal silk floral design on a large pedestal vase in a hallway, foyer or spacious counter top or armoire.

Floral Home Decor provides the highest quality of silk flowers and foliage designs at a reasonable cost. Visit our website for our latest silk flowers, faux greenery and foliage designs and vibrant, botanically realistic topiaries.
- Written by Donna McGiboney