Silk Floral Arrangements - Styles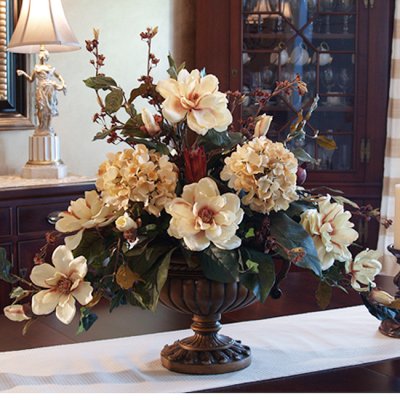 Silk Flower Arrangements – the Line-Mass Style

As the name indicates, a silk floral and foliage arrangement following the line-mass floral arrangement style combines the use of silk mass flowers (large, round flowers such as roses, peonies, geraniums and hydrangea) with silk line flowers and foliage (material that provides horizontal and vertical lines, such as gladiolus, cattails, larkspur, tuberose, lamium and snapdragon). The spike-shaped or long-stemmed silk line flower, twig or branch provides the skeleton or basic structure of the silk line-mass flora arrangement. Meanwhile, silk mass flowers and silk accent or filler flowers (such as Queen Anne's Lace, crassula, caspia and miniature daisies) may partially cover the horizontal and vertical structures of the silk floral and foliage arrangement; however, spaces and gaps within the boundary of the silk floral and foliage arrangement remain important. By combining silk line florals and large, round mass flowers with filler material, silk floral arrangers create crescents, triangles, curves, fans and other shapes with the silk flower and foliage design.

Triangular Silk Flower Arrangements: Symmetrical and Asymmetrical Triangles

If you have spent time in a floral shop, you will have seen many symmetrical floral bouquets, one of the most common florist designs since the middle of the twentieth century. The symmetrical triangular silk flower design was original quite stiff and formal; however, the design has evolved and now symmetrical silk flower and foliage arrangements can take on a more flowing and wispy look by utilizing more flexible and experimental line material (ferns, grasses, ivy branches, twigs).

Asymmetrical triangular silk floral designs are even more exciting. An asymmetrical triangular silk floral and foliage arrangement takes on on an L-shaped crescent. This asymmetrical silk floral design works well in pairs that mirror each other, adding balance to a counter top or armoire.

Silk Floral Crescent and Curve Designs

Leafy, bare or flowering woody stems form the crescent arch of this silk floral arrangement. The completed silk crescent floral arrangement is then unusually placed in a shallow dish. The crescent silk floral arrangement can also be inverted, placed in a candle cup with a candle holder and candles, and displayed as a centerpiece on the dining room table.

A natural evolution of the crescent-shaped silk floral design is the Hogarth sik flower arrangement. Named after the painter William Hogarth who popularized the elongated 'S' shape and referred to it as the 'line of beauty,' the silk floral Hogarth curve follows this highly formal geometric silk flower design. To form the flowing S-curve of the silkfloral Hogarth arrangement, flowering current, winter jasmine and rosemary are frequently used.

The Informal Silk Floral Line-Mass Design

To move away from the formality of the silk floral Hogarth arrangement, silk flower designers developed more informal designs in the line-mass styles. The outline of the informal silk line-mass design is irregular and asymmetric.

Horizontal and Fan Silk Floral Line-Mass Arrangements

The silk floral horizontal line mass arrangement makes a popular dining room centerpiece. The silk flower horizontal line-mass design is a lower arrangement that is placed in a shallow, rectangular container, thus allowing dinner guests to talk easily across the table. The silk floral fan arrangement, on the other hand, is taller, wider, and showy. The fan silk floral arrangement works well to cover the fireplace during the summertime or to decorate a hallway or corner void on a pedestal.
- Written by Donna McGiboney