Decorating With Wall Sconces

Wall sconces are typically used in a symmetrical way and placed on the site of a fireplace or above a piece of furniture. You can even group them together if you have different styles to choose from. The options for decorating with wall sconces are endless as long as you come up with a plan that will be pleasing to the eyes.

Here are just a few of our favorite ways to decorate using these unique decor items.

Entry Way

Wall Sconces are the perfect, basic addition to the decor for any entry way. Wall sconces can be used to dress up an entry walk way, or a hallway leading from room to room. You can also use them on walls by the stairs.

Bedroom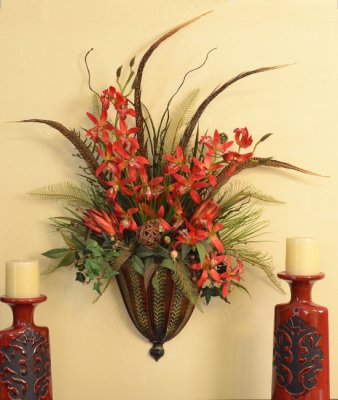 Wall sconces are the perfect addition to your bedroom decor. If you want the look of fresh flowers in your bedroom but have allergies or don't want to worry about upkeep, think about wall sconces.
Our wall sconces with orchids, feathers and grass will provide an upscale touch to your bedroom.

As more bedroom decorating trends point to a resort-style feel wall sconces are an excellent option to give you the relaxed look your bedroom deserves.

Bathroom

Wall sconces can provide a fresh look for your bathroom. Hang one or two wall sconces between a his & her mirror set. You can also hang a wall sconce on a bare wall in place of a piece of art.

Dining Room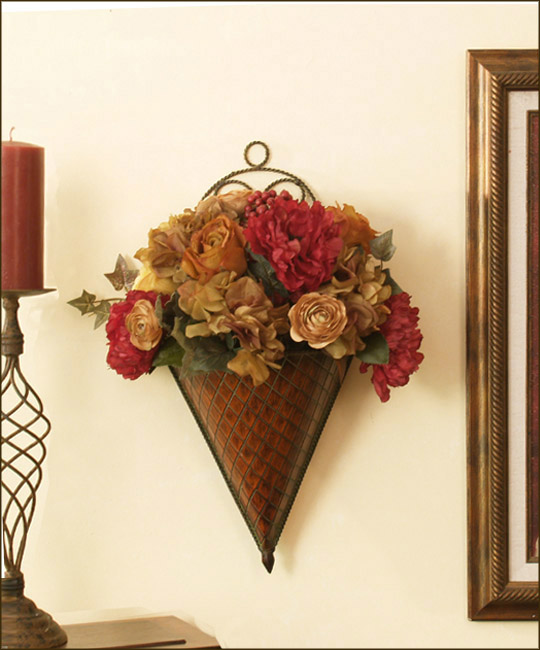 Hanging wall sconces in the dining room is a great option in place of wall lamps or shelves.
In the dining room it's important to try to find wall sconces that will match the look of your table and any other items you may have (like an armoire).
Our chocolate wall sconce is one of our best selling items and there's a reason. This wall sconce has a look that is very versatile and it's style will match most dining room sets. It's overflowing with silk hydrangeas, peonies and roses.